Date/Time
Date(s) - November 16, 2023
12:00 pm - 2:30 pm
Calendar Download
iCal
Location
Woodberry Kitchen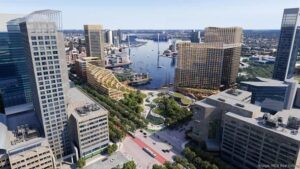 You are invited to Lambda Alpha International's Baltimore Chapter
Annual Meeting and LUNCHEON  Thursday, November 16, 2023
12:00 pm
Woodberry Kitchen, 2010 Clipper Park Rd., Baltimore
Keynote Speaker: P. David Bramble Managing Partner, Co-Founder MCB Real Estate
12:00 pm Reception
12:45 pm Lunch and Annual Meeting
Introductions
President's Chapter Update
Charitable donation to Plantation Park Heights Urban Farm
Chapter Member of the Year Award
Election of Board Members, Officers and new Chapter President
Induction of new members including: Barbara Jean Gilbert, Lauren Bostic Hill, Kevin J. Kelehan, Esq., and Anthony L. Waddell
Keynote Address and Questions
P. David Bramble, Managing Partner, Co-Founder MCB Real Estate, will discuss the Company's Baltimore-centric projects including Harborplace.
Ticket Prices
Active Members $120
Active Member Spouses $120
Others $145
P. David Bramble Managing Partner, Co-founder of MCB Real Estate
MCB Real Estate is an institutional investment management firm headquartered in Baltimore.  MCB boasts a diverse portfolio of operating assets totaling approximately 10 million sq. ft. of industrial, office, retail, mixed-use, and multi-family properties with almost 4 million sq. ft. in its development pipeline.  These properties are located primarily up and down the East Coast.  Notable among them are Harborplace, Yard 56, and 300 E. Pratt Street in Baltimore.
P. David Bramble has been working in real estate investment for over 20 years. He dedicates his time to sourcing & capitalizing transactions and overseeing project underwriting and execution. As a corporate and real estate attorney by training, David brings a deep knowledge of all aspects of the real estate cycle. Prior to MCB, David served as the director of commercial lending for a regionally based full-service lending firm –Madison Funding – which he co- founded in 2000. Prior to devoting all his time to commercial real estate investment, David practiced law in the transactions group of Steptoe & Johnson LLP where he provided corporate and real estate advisory services. His practice focused on complex workouts, primarily in the real estate and financial products space.
David serves as the Chairman of the Board of Lendistry, a fintech enabled CDFI focused on providing small business capital to underserved communities nationwide. He is serves on the investment committee and board of the Robert W. Deutsch Foundation which invests in innovative people, projects, and ideas that improve the quality of life in Baltimore and beyond. He also serves on the boards of Johns Hopkins Bayview Hospital, Ronald McDonald House, UPENN Institute for Urban Research, and Baltimore Tree Trust.
David received his J.D. from the University of Pennsylvania, and A.B. from Princeton University.
---
If you have any questions, please contact:
Nathan Betnun
President, Baltimore Chapter
[email protected]
443-994-1941