Map Unavailable
Date/Time
Date(s) - October 21, 2020
12:00 pm - 1:30 pm
Calendar Download
iCal
Location
Zoom Meeting
7 St. Paul Street
Baltimore, MD 21202

Please join Lambda Alpha International's Baltimore Chapter for our October presentation on Wednesday, October 21st. The presentation will feature Stephen J.K. Walters, Chief Economist at the Maryland Public Policy Institute and the author of Boom Towns: Restoring the Urban American Dream. We are delighted that we were able to reschedule this presentation from March. 
You are invited to a Zoom meeting.
When: Oct 21, 2020 12:00 PM Eastern Time (US and Canada)
Register in advance for this meeting:
https://zoom.us/meeting/register/tJ0ldOysrDkqGdMbHcEqiV549c1FjzMNB7Xx
After registering, you will receive a confirmation email containing information about joining the meeting.
American cities, once economic and social launch pads for their residents, are all too often plagued by poverty and decay. One need only to look at the ruins of Detroit to see how far some once-great cities have fallen, or at Boston and San Francisco for evidence that such decline is reversible. In Boom Towns, Stephen J.K. Walters diagnoses the root causes of urban decline in order to prescribe remedies that will enable cities to thrive once again.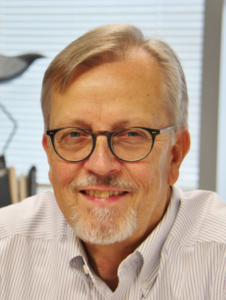 Stephen J.K. Walters is chief economist at the Maryland Public Policy Institute and the author of Boom Towns: Restoring the Urban American Dream (Stanford University Press, 2014). He is a Emeritus Professor of Economics at Loyola University Maryland, an Adjunct Scholar at the Cato Institute in Washington, DC, a fellow of the Institute for Applied Economics, Global Health, and the Study of Business Enterprise at The Johns Hopkins University.
Dr. Walters is an applied microeconomist. His fields of expertise include urban economics, sports economics, government regulation of business, and the economic analysis of law. His many scholarly articles have appeared in such periodicals as The Journal of Law & Economics, Southern Economic Journal, the Cato Journal, the Journal of Sports Economics, and the Journal of Sport Management. He is also the author of Enterprise, Government, and the Public (McGraw-Hill, 1993) and editor of Econversations: Today's Students Discuss Today's Issues (Pearson, 2013).
Dr. Walters was named Loyola's Distinguished Teacher of the Year in 2005. He frequently contributes commentary in such outlets as The Wall Street Journal, The Washington Post, Investor's Business Daily, and National Review, delivers guest lectures on the economic problems of cities and sports economics, and has served as a consultant for clients as varied as the Nuclear Regulatory Commission and the Chicago Cubs. He earned his B.A. in economics at the University of Pennsylvania and his Ph.D. at the University of California, Los Angeles. He and his wife Melanie live in Baltimore City.
How can I contact the organizer with any questions?
Matthew L. Kimball, President, Baltimore Chapter
mlkimball@nilesbarton.com, (410) 783-6354